I have defied demons and gods.
---
Los Angeles born and raised mutt. I work, work out, and have an active well rounded life outside of having fun on the side.



Thank you all for your nice comments and kind messages, they have been truly uplifting.



Buy me a drink!

(and I"ll upload a video):



https://www.paypal.com/cgi-bin/webscr?cmd=_s-xclick&hosted_button_id=MENDQRAXTNP3Q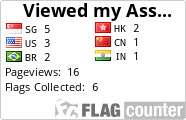 Counter added 01-25-2013
Turn Ons
---
All of you sexy fuckers!
Movies
---
KIll Bill, Inception, Lord of the Rings, Fight Club, Avatar, Stargate, American Psycho, The Dark Knight, GATTACA, The Devil Wears Prada.
Hobbies
---
Art, Music, Movies, Fashion, Technology, Video Games, Politics, Philanthropy.
Music
---
Beyonce, Jay-Z, Rihanna, Lady Gaga, Kanye West, Madonna, Kelis, Muse, Coldplay, Justin Timberlake, M.I.A., Led Zeppelin, Massive Attack, Cocktail Twins, Frederic Chopin, Johann Sebastian Bach, Peter Ilyich Tchaikovsky, Wolfgang Amadeus Mozart.
Books
---
Lord of the Rings, World of Warcraft novels by Christie Golden, Hunger Games, extended Star Wars Series Novels.
Work & Living Environment
xxxfish - Male , 30
Hollywood, CA, California, United States
Member for 8 years
Sexual orientation: Gay
Stats
Friends:
3916
Subscribers:
227
Viewed Videos:
52,730
Ratings:
568
Viewed Photos:
67,280