100% cocksucker cumpig
---
Down to earth. happy, good looking, intelligent, artistic, nice smile, wanting to swallow cum from men who really understand the needs of a cumpig like me.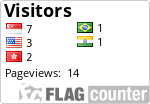 Turn Ons
---
Cum! Kinky gear: leather, lycra, underwear, denim, rubber, shorts, speedos, harnasses, masks, hoods, colars, gloves, boots, belts, bondage gear etc. etc. etc.
One of my fantasies is to slurp cum from an ejaculating cock through lycra shorts or thin underwear.
Being treated like his personal cumsucking slut by a selfish and verbal guy.


Turn Offs
---
Not really interested in anal sex, but happy to please other guys with toys or rime (only if squeeky clean) and if the reward is a bigger load for me to swallow. If fucking is necessary, then my mouth an throat are available :P I like vanilla, or rough sex, but no scat, blood or permanent scarring. Other than that, it is my biggest aim to please and extract the biggest and juiciest load out of a guy that he can produce.

Entertainment, Sports and Hobbies
Work & Living Environment
slurpslurper - Male
Tasmania, Australia
Member for 7 years
Sexual orientation: Gay
Stats
Friends:
3507
Subscribers:
55
Viewed Videos:
51,272
Ratings:
278
Viewed Photos:
3,377