My new vids are on the Amateur Account
---
Starting in June 2010, I am opening an Amateur account: servilejerome2! All my new videos of bdsm and especially ballbusting, from now on are available exclusively under my Amateur account.



Many older videos are available for free on this account here (so that you get an extensive idea of what is in the Amateur videos), and you can find newer videos on my Amateur account: servilejerome2





My Gayromeo profile is "multiPurposePet".



I added this counter below today (June 29th 2012). Of course, it comes a bit late and thus doesn"t account for the 3.5 million views of my videos until today...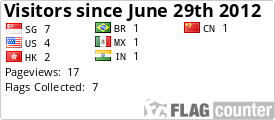 My pbworks page is at: servilejerome pbworks com
I reject friends requests if you do not have a text + at least a picture of you in your profile.
IF YOU USE MY VIDEOS ON YOUR PERSONAL WEBSITE: REFER BACK TO THIS XTUBE PROFILE AND GIVE PROPER CREDIT, THANKS! IF YOU ARE A COMMERCIAL WEBSITE, I DO NOT ALLOW YOU TO USE MY VIDS!
Turn Ons
---
Quite simple: If you"re young (up to late 30s, best 20-25) and cute, you"re my type: ï hot slim girls especially those with a little sadistic side they want to try out (or a maso side also)ï ï beautiful hot boys, tops or bottoms (tops may be up to their 30"s but bottoms have to be below 25)ï either twink or with muscles, but no hairy-bears.
Turn Offs
---
Hairy chest, pubic hair;Old age; Fat or too skinny; Ugly face (yes that"s very subjective)...By the way: Old, fat or extremely-skinny people may be of course wonderful people, I have nothing against them. But they do indeed "turn me off".
Hobbies
---
SM games and editing vids of them for xtube :-)ï Also other stuff but I won"t tell you what
Books
---
So many kinds of booksï Including the excellent sm books like "the new bottoming book" and "the new topping book"ï
servilejerome - Male , 33
Not Far From Hamburg, Niedersachsen, Germany
Member for 7 years
Sexual orientation: Bi-Sexual
Stats
Friends:
891
Subscribers:
1,517
Viewed Videos:
3,925,411
Ratings:
770
Viewed Photos:
7,183