Carpe Diem (Seize the day)
---
I love sex and pretty much everything that it entails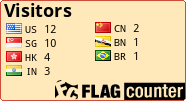 Turn Ons
---
Beautiful women, handsome men, nice smiles, genuine people, big boobs, wet pussy, hard cocks. There is nothing sexier than watching a woman cum or a guy shoot his load.
I am sure there are lots of other things that are missing in this list, but that"s all I can think of at this moment.
Turn Offs
---
prejudices, racism, violence, misogyny, homophobia and last but not least religious/political fanaticism.
Hobbies
---
photography, leatherwork, old tools, computers
Music
---
I am a musical omnivore, but have a weakness for old rock and good country music
Books
---
I love books, but don"t get enough time to sit and read.
Work & Living Environment
sapfu - Male
Victoria, Australia
Member for 2 years
Sexual orientation: Bi-Curious
Stats
Friends:
530
Subscribers:
39
Viewed Videos:
27,836
Ratings:
77
Viewed Photos:
5,525