Have I got a chance with you?
---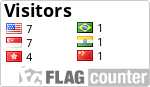 ' It"s usual for me to get so many days or months outstanding this site, so don"t mind if I don"t reply you... but I can always Add you and maybe comment on your picture or write you a message! ;-)
I am actually a spiritual person, You will find me easyly talking about music or about zodiacs and etc. Proud of being Brazilian, proud of being a gay bear, nasty in bed, but, a little shy with striking-looking overhandsome guys. So if you wanna add one of my albuns as favourite just let me know, right?

Turn Ons
---
It all starts with that sight, a beautiful smile, that killing look, a fun enviroment, a Good Sense of Humor. In sex: Slap in my face, Nipple orgasms, Nasty smile, Sex in public places, restrooms, creative guys, smegma, Bushy Pubes, Smells and Colognes, Hairy Bodies, Cum eating, rimming, Strip Tease, Red Haired, Blond, Beards, Wet tong kissings, Watersports, Leather, Handsome men, Cocks, spreading assholes, Blowjobs, Smoking... most of the things you see on my Xtube lists. A special priority to Brazilian, Peruvyian and Colombian males!

Turn Offs
---
Long taking sex, Long taking blowjobs (with me as a btm), trimmed or shaved areas, coldness, Scat, Blood, pantties, Obesity, Inflatted Egos, Bad Hygene,like: smelling feet, smelling mouth, smelling body, dirty arses.
Movies
---
Action, Musical, Cartoons, Super-Heroes Movies, Comedy, I"m not so into Cult Movies.

Hobbies
---
Listening to music, reading, internet, sleeping, eating (good, isn"t it?), watching Dvd"s, Jacking off
Music
---
Christina Aguilera, Bjork, Kylie, Madonna, Gaga, Janelle Monae, Dark Tranquillity, Vanitas, Immortal, My Chemical Romance, Fall Out Boys, Bullet For my Valentine, Megadeth, (basically a picky ecletic style), Brazilian Pop Music (MPB)
Books
---
The Lightning Thief, The Chronicles of Narnia, Brave New World, Tales of Mistery and Imagination: Allan Poe, A Picture to Remember, Gulliver, Somethings about Celtic Myths, Nothern Myths, Comick Books

Entertainment, Sports and Hobbies
Work & Living Environment
pierre_deville - Male
Colombia
Member for 9 months
Sexual orientation: Gay
Stats
Friends:
740
Subscribers:
8
Viewed Videos:
1,085
Ratings:
44
Viewed Photos:
2,025