I love boobs!!!
---
i"m bi, 30 yr old, blonde,ï40d"sïand very interested inïconversing with other bi girlsïaboutïour turn ons as well as anyone else who enjoys the same turn ons as myself! I love watching boob videos while I rub my pussyïand really like talking about titties, fucking, and masturbation. I would love to talk nastyïto anyone who likes what I like.ï
Lets post nasty huge tit, cunt, and fucking pics and videos and talk about them!!!!!
LOVE TO SEE OLDER COCK THAT GETS HARD FROM SEEING HUGE TITS!!!
OLDER MEN SHOW ME YOUR COCKS AND I"LL SEND YOU PICS OF MY HUGE TITS AND MY SPREAD WET CUNT.
Turn Ons
---
huge boobs!!! lesbians/bi girls, bbws, big wide nipples, hard nipples, girls stuffing big dildos in their pussies, spread pussy, tit sucking and licking,older men, grandpas,hot older women, pussy licking,ïretro porn, big pussy lips &ïclits, filled cunts, trannies with huge tits, huge clits, big pussy lips,ïfemale bukkake, squirting,ïbbws, swinging jigglingïhuge tits! I love all types of girls and all types ofïtitties. men who get turned on by huge tits and big girls!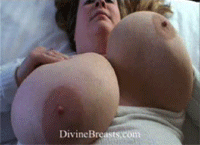 WOBBLERS,PERKY,SAGGY,HUGE,SMALL,MILKERS...I FUCKING LOVE TITS!!!



Bounce & shake those titties!!!
Turn Offs
---
prudes, homophobia, ignorance, scat, beastality, pain, pedophilia, Anything that hurts animals or people, children ect.
Movies
---
porn..*hehe* especially huge tits porn!



Hobbies
---
Music
---
Books
---
bibooblover - Female
Member for 8 years
Sexual orientation: Bi-Sexual
Stats
Friends:
156
Subscribers:
6
Viewed Videos:
0
Ratings:
16
Viewed Photos:
216