Alfamarvel
---
Hello!
My name is Nigel, I have 25 years living in Mexico City and I am Electronic Engineer graduated from the IPN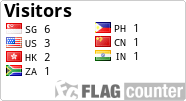 Turn Ons
---
I am a universal person and always try to have good conversation topics, I love video games fights, technology, movies, reading, going out and meeting the corners of nature, live with my friends the good music, good art in a museum, I like from a rich beer in a tavern, to a good harvest wine accompanied by family and friends, and why not, for that special person.
Turn Offs
---
People who write lies and falsified photos and videos, someone trying to pretend they are not.
Movies
---
Action, adventure, drama, gay theme, cultural, science fiction, love, and of course porn
Hobbies
---
Read, exercise, play and have good sex.
Music
---
I am music lover by nature, but the only genre that I like reggaeton, that kind of music for chundos and nacos.
Books
---
novels, biography, romance, love, drama, technology
Work & Living Environment
alfamarvel - Male
Member for 8 years
Sexual orientation: Gay
Stats
Friends:
1807
Subscribers:
18
Viewed Videos:
30
Ratings:
146
Viewed Photos:
3,834
Mini Feeds